Press Release: Guidance towards ethical governance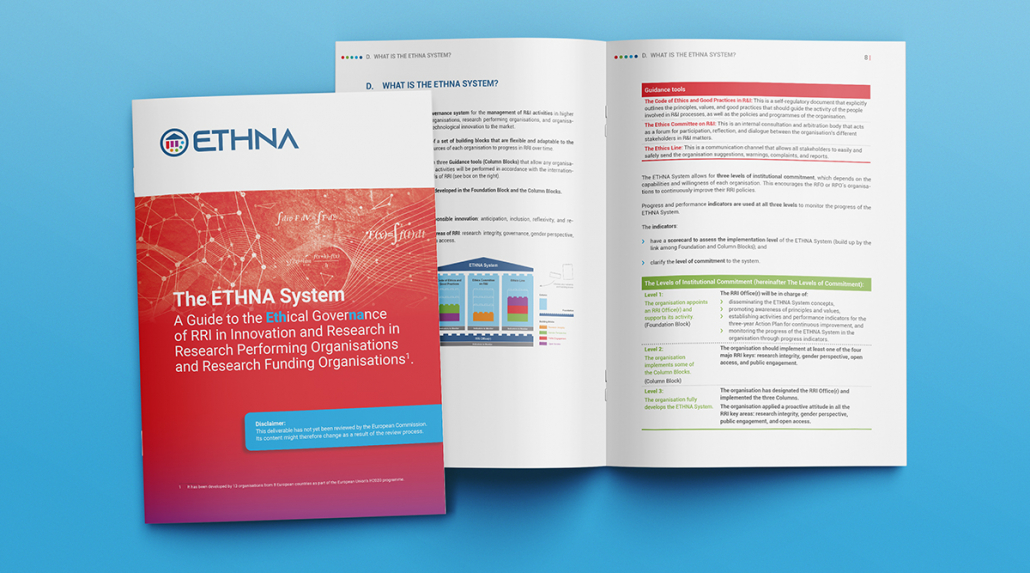 Castellón de la Plana, 12.07.2021 – How will the ETHNA Ethical Governance System be implemented within our pilot organisations? ETHNA researchers have drafted a guide that has the answers.
Establishing ethical governance in RRI is not done overnight. It takes work and commitment – and a guidebook detailing the steps of the implementation process. UJI researchers have now published the draft version of this guide for implementing ETHNA System within our pilot organisations. The guide will eventually be targeted at any organisation that performs research and innovation or funds it and that aspires to have a more effective ethical commitment. Complementing the guide is an in-depth toolbox that will support implementors in installing a system of their own.
The Guide is divided in six sections and includes seven annexes that form a toolbox to implement the ETHNA System. Section A, B and C explain the importance of having a system of ethical governance, its target audience and the benefits resulting from public commitment to manage the ethical basis for trust. Section D explains the structure of the system which consists of a set of building blocks that are flexible and adaptable to the needs, idiosyncrasies, and resources of each organisation to progress in RRI over time. Section E describes how to implement the ETHNA System through three phases and seven steps. And finally, Section F dives into the importance of internal and external communication in the ETHNA System to create a RRI culture.
The document is enriched with a Toolbox that will help with the implementation of ETHNA System.
"The ETHNA System wants to be useful for each institution to build its own system of ethical governance of RRI based on continuous improvement in a flexible and adaptable way to its circumstances", said Elsa Gonzáles-Esteban, ETHNA project coordinator. "In any case, the key to the successful implementation of the ETHNA System will reside in the shared construction, in the joint creation of the ethical governance structure."
Although far advanced, the current guide is still in draft stage and will be finalised by year's end.
https://ethnasystem.eu/wp-content/uploads/2021/07/ETHNA-Guide_Mockup_1200x667.jpg
667
1200
u.mommert
https://ethnasystem.eu/wp-content/uploads/2020/04/ETHNA_Logo-800px-250x63.jpg
u.mommert
2021-07-12 11:15:51
2021-09-20 13:41:45
Press Release: Guidance towards ethical governance